Gian Luca Bartellone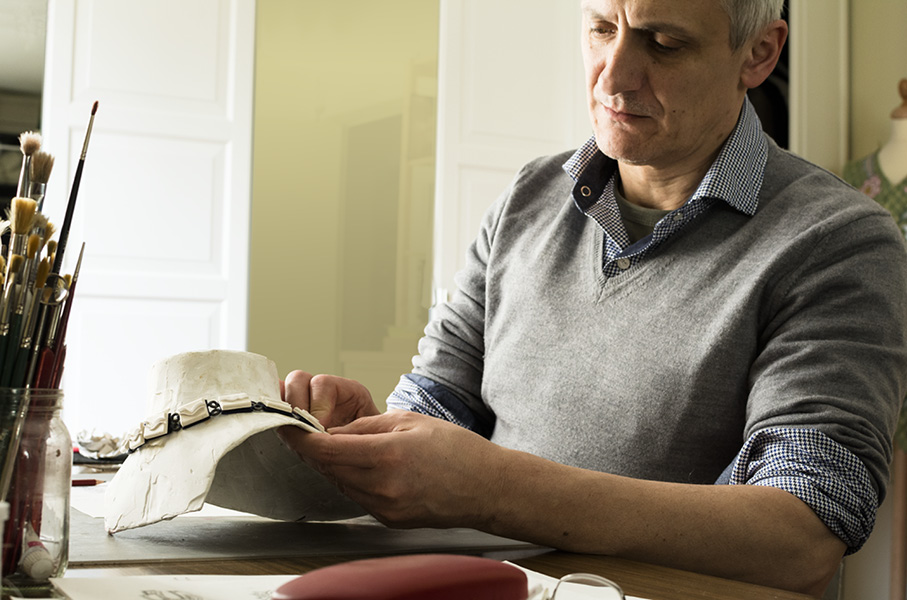 I am sure most people find it hard to speak about their own work, especially when it's so closely tied to their emotions, feelings and experience. The jewelry I create is a product of long years spent as a traditional jeweler, decorator and painter.
Each piece is unique, as is the spark that inspired it: a splash of colour, a half-glimpsed fleeting shape, or a combination of the two. Ideas then materialize and find their final form on paper. On my quest for ideal work materials I settled for paper, gold wire and gems, opting for the lightness and malleability of paper rather than the hardness and rigidity of metal. To me, my art is a harmonious fusion of the experience I have gathered over the years and a constant search for new combinations and arrangements.
CV
1961    born in Velezzo Lomellina (Italy)
1977    Education: graduates as "Maestro d'Arte" at the "Benvenuto Cellini" institute in Valenza (I)
Acquisitions
2012    Necklace "Kardia" and bracelet "Pelagos" by the Grassi Museum of applied Arts, Leipzig (D)
Awards
1988    winner of the Diamonds International Award, De Beers, Paris (F)
2012    winner of the Grassipreis, Grassi Museum of applied Arts, Leipzig (D)
2015    winner of the Alatyr 2015 Innovation Award, Biennial of Amber Art in Amber Museum, Kaliningrad (Ru)
Publications
1988    media coverage about the "Diamonds International Award" including Sette, national newspaper Corriere della Sera
1997    Interior design featured in the local weekly magazine ff – Südtiroler Wochenmagazin
2001    Bodyfurnitures featured in the local weekly magazine ff-special "wedding"
2003-05    extensive media coverage of the Bodyfurnitures collection in Italian magazines, including donna moderna, marie claire,
chi, plus magazine, elle, vanity fair, street wear in collaboration with Terzo Millennio gallery, Milan (I)
02/2008    Bodyfurnitures featured in the life-style magazine IN Südtirol
06/2008    Bodyfurnitures featured in the magazine ornamenta cult
10/2009    Bodyfurnitures featured in the fashion and culture magazine cool_schrank
01/2011    Bodyfurnitures featured in the national newspaper Corriere della Sera
02/2011    Bodyfurnitures featured in the art magazine aperitivo illustrato
11/2012    media coverage about the Grassipreis Award, including Art Aurea, Schmuckmagazin, Sentire, Dolomiten, Neue Tageszeitung
11/2012    Bodyfurnitures featured in the local weekly magazine ff-special "luxury"
11/2012    Bodyfurnitures featured in the Jewelbook 12/13, International Annual of Contemporary Jewel Art by Stichting Kunstboek (NL)
05/2013    Artist profile featured in the British Vogue (UK)
02/2015    Bodyfurnitures featured in the Artistar Annual 2015, International Annual of Contemporary Jewel Art by Fausto Lupetti Editore (I)
07/2015    media coverage about the Alatyr Innovation Award, including Neue Tageszeitung, Dolomiten, ff – Südtiroler Wochenmagazin
06/2016    Bodyfurnitures featured in "25 Jahre schenken und fördern", exhibition book of the Grassi Museum of applied Arts, Leipzig (D)
Exhibitions
04/2001    "I quattro elementi" – sculpted bracelets at Café Maschin, Bolzano (I)
03/2008    "Cartiera", solo-exhibition at Brand33, Milan (I)
04/2008    "Magic of jewelry art" at the Slavik gallery, Vienna (A)
11/2008    "Les artistes de la galerie" at the Orfeo gallery, Luxembourg (L)
03/2009    "Indossare l'arte" at the Il ponte gallery, Bassano del Grappa (I)
04/2009    "Poesie der Schmuckkunst" at the Slavik gallery, Vienna (A)
11/2009    "Designers Date" at Villa Ammonit, Berlin (D)
04/2010    "Summer Collection" at sdcgallery, London (UK)
11/2010    "Designers Date II" at Villa Ammonit, Berlin (D)
11/2011    "Storie di Carta", solo-exhibition at the mies gallery, Modena (I)
12/2012    "Piedàterre". Solo-exhibition and presentation of the new Bodyfurnitures shoe jewelry collection at Brand33, Milan (I)
12/2012    "8x faszination" at the University of design, Bolzano (I)
02/2013    "Schmuckkunst und Papagenoart" at the Slavik gallery, Vienna (A)
08/2013    "Nocturnum IV – Nord trifft Süd" at the Schmuckwerkstatt Konrad Laimer, Naturno (I)
08/2013    "Gut Geissel Opening" at the Gut Geissel gallery, Langenberg (D)
07/2014    "Friedrich Becker Price" – exhibition of selected pieces of jewelry – at the Gesellschaft für Goldschmiedekunst, Hanau (D)
12/2015    "8x faszination" at the University of design, Bolzano (I)
06/2015    "Sommer Edition" at the Gut Geissel gallery, Langenberg (D)
04/2016    "Loot:mad about jewelry 2016" at the MAD Museum of Art and Design, New York City (USA)
03/2017    "Bijoux! 2017" at the Norton Museum of Art, West Palm Beach, Florida (USA)
03/2017    "aad adria alpen donau" at the P13 Carl Weishaupt gallery during Munich Jewellery Week, Munich (D)
04/2018    "Loot 2018" at the MAD Museum of Art and Design, New York City (USA)
11/2018    "Italiano plurale – Vie personali" at the Der grosse Bär gallery during Vienna Jewellery Days, Vienna (A)
Fairs
11/2007    Blickfang, Zurich (ch), in collaboration with Schmuckforum gallery
11/2008    Blickfang, Zurich (ch), in collaboration with Schmuckforum gallery
10/2012    Grassimesse, Grassi Museum of applied Arts, Leipzig (D)
10/2013    Grassimesse, Grassi Museum of applied Arts, Leipzig (D)
11/2013    Sieraad Art Fair, Amsterdam (NL)
03/2014    Arredo, Bolzano (I), in collaboration with University of Bolzano (Design)
05/2015    Eunique, Applied Arts & Design, Karlsruhe (D)
10/2017    Grassimesse, Grassi Museum of applied Arts, Leipzig (D)
Work experience / Workshops and lectures
1979-90    goldsmith and jewelry collection designer for ORM/Giollaro in Mede Lomellina (I)
1990-91    jewelry designer for Asia in Mede Lomellina (I)
1992-99    lecturer of Illustration and Design classes held by the Valenza jewelers' association
since 1992    creates interior designs, trompe l'oeil, stencil decorations and portraits in collaboration and as freelancer
since 2000    launches the Bodyfurnitures project – Bartellone's own jewelry collection of papier-mâché, gold, gold leaf and precious stones