A colourful selection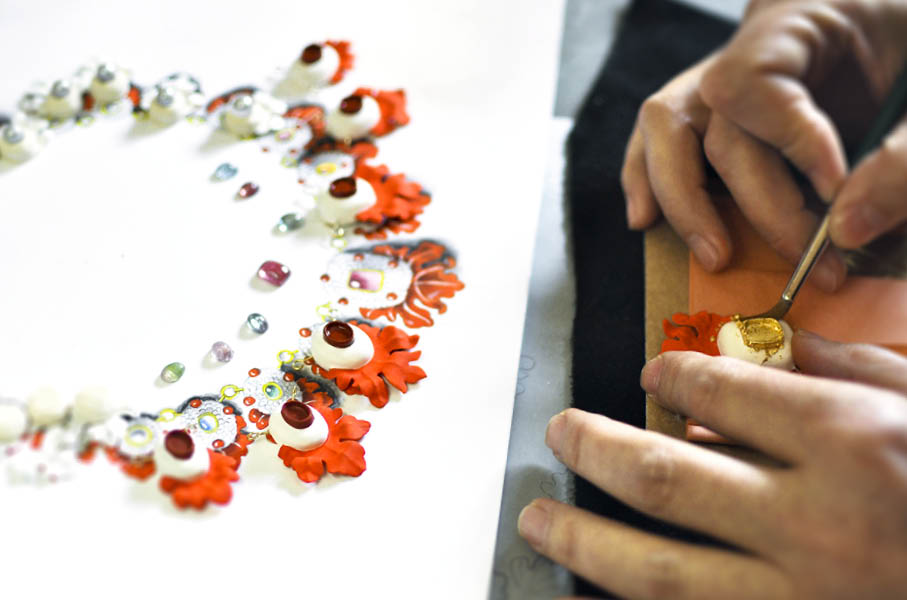 I have always been fascinated by paper as an easily obtainable, ductile and malleable material, so it was a perfectly natural decision for me to move from traditional jewelry towards using paper as a main element for unusual and exceptionally light pieces. Its intrinsic softness and shock resistance make paper an ideal material for bold creations, as it allows for voluminous shapes and extraordinary lightness.
Paper is a true chameleon: it can be coloured, gilded and treated in wide a variety of ways. This makes it an ideal partner for a number of other materials, such as gold, pearls, gems, copper, iron and antique textiles in a mixture of shapes and colours that form unique, precious pieces of jewelry. Each piece of jewelry starts out as an idea subsequently refined in a detailed drawing and finally takes shape as a three-dimensional object accompanied by a description, the original drawing and a list of all materials employed.
Materials used
alluminio – aluminium
ambra – amber
ametista – amethyst
carta – paper
cartapesta – papier-mâché
citrino – citrine
corallo – coral
corindone – corundum
diamante – diamond
ferro – iron
filo metallico – metal wire
foglia d'argento – silver leaf
foglia d'oro 22kt – gold leaf 22kt
granato – garnet
iolite – iolite
magnetite – magnetite
olivina – olivine
oro 18kt – gold 18kt
peridoto – peridot
perla – pearl
pizzo – lace
rame – copper
rodolite – rhodolite
rubino – ruby
seta – silk
smalti a freddo – varnish
smeraldo – emerald
tanzanite – tanzanite
tormalina – tourmaline
turchese – turquoise
velluto – velvet
zaffiro – sapphire